Oddly after I pan The Lion King II the next film has a trailer for the DVD release of the first one.  This trailer made my brother want to play the safari game so much we bought it.  We also lost it in the last few months.  I always liked the Bionicle: Mask of Light commercial, but I never felt a need to see it.  It makes me wonder what film has a commercial for its sequel.  The commercial for the series has many spoilers for the film, which I somehow missed the first time I watched this around twelve years ago.  The main menu has a part with Stitch swinging from a rope, which made me assume he would do that in the climax.
              Gantu is back to be one of the main villains.  He still comes off as intimidating.  I know several fans think he got way weaker after the original, but considering he is now much stronger than Jumba (Jumba fought Stitch far better than Gantu in the original) I have doubts about that.  He is now working for Hamsterviel.  Despite Gantu still being rather intimidating the overly small stuff and Hamsterviel's voice keep this part surprisingly funny.  The plan is for Gantu to go Earth (which the aliens no longer call Yars) and retrieve the other 625 evil experiments.
The new animation did make the characters look uglier, but I only thought that for two minutes.  The main plot line is Lilo and Stitch want more people outside of their family to like Stitch.  This leads to the main problem, there is very little story.  In fact the run time is less than an hour, but there are still plenty of scenes that could have been cut easily.  This easily could have been reduced to a 2 part episode.  As expected it does not go well with Stitch scaring a few people away and that results in a little fire (Lilo was very happy to help put it out).  Stitch goes to Jumba (his creator) to ask about family.  Jumba says they both have no family.
After a few jokes such as Pleakly cooking dog food, which is actually more nutritious than most human food and David getting his small role to keep his fans happy Gantu breaks in.  This film has received a few idiot plot accusations.  I disagree with most, but I always found it odd that Gantu beats Stitch early and does not use the opportunity to finish him off.  It would have saved him a horde of misery the next three years, and it is later revealed that Hamsterveil would have plenty of use for him.  Also Jumba just then tries to actually hide his other 625 monstrosities he thinks should not be activated instead of burying them a while back, and Gantu decides to just kidnap Jumba instead of looking harder.  He does find experiment pod 625, with its ominous music.  When I was younger I only noticed the first one, and I thought it was very bad for the main heroes that Jumba is aliennapped.
Stitch then hotwires Jumba's ship, and they chase him into space.  Stitch apparently has really good aim and manages to shoot the engines without actually hurting Jumba, but they run out of power.  Presumably they have some emergency power that Stitch uses to make sure they fall at home and not in Antarctic or Venus.  Wow, I am already through one quarter of he film.  I have criticized David's role as being filler but most of his lines are funny such as him watching an alien invasion movie oblivious to Gantu having just assaulted his want to be girlfriend's house.  This leads to Nani calling Cobra for help.  Lilo realizes that one of the experiments could repower the ship letting them chase after Gantu.  Pleakly has the more long term plan of calling every phone in the galaxy.
Lilo and Stitch release 221, but he wrecks the house's power and leaves.  They should have used insulators.  They go looking for him, but it goes nowhere except some fun ideas for the characters like seeing Stitch's night vision in action.  It was not important, but the scene is fun to watch.
In the meantime Jumba is set up to be tortured by Hamsterveil but nothing worries him especially Hamsterveil threatening his family.  "Ha, I have no family."  I like how happy he is to say that.  Hamsterveil is really hard to understand, but I still enjoy his blunt rudeness, Jumba's uncaring attitude, and Gantu being overly polite.  These three are really funny.  They then decide to release 625 on him.  The music indicate that is very bad.  All three are scared of him, until it turns out he is very lazy and just makes and eats sandwiches.  625 makes the funny trio an even funnier quartet.  Eventually Jumba is singing ninety-nine beers on the wall except he is singing about pieces of me on the wall.  I have actually sung that many times.  Pleakly reaches him, but Hamsterveil takes the phone and makes a ransom demand.  Gantu puts the phone gently away…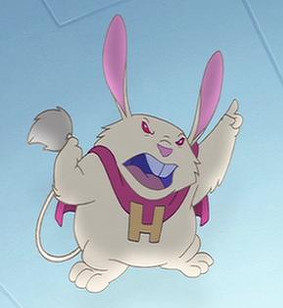 No! Slam it!  I think one of the idiot plots is how Pleakly tried to reach Jumba, which actually gave the villains an option for a ransom, and Lilo now regretting releasing Sparky since the ransom is now incomplete.  I thought that was a nice change where plans work or fail.  Sometimes a person realizes half way through their plan was bad and now has to change it.  Stitch hotwires Cobra's car, and they look for Sparky over a montage.  I remember my dad laughing at the part where Stitch drinks an entire case of coffee.  After that they find Sparky by following the screaming people and broken electronics.  Stitch catchs him with he rope swinging in the menu (I was surprised to see it so early) and a glass vase.  They bond over some similarities, and they realize they are family.
Pleakly and Cobra go to meet Hamsterveil and Gantu at the lighthouse.  Cobra's actions do fit into his plan later.  He is hoping to give the experiments to Hamsterveil, get Jumba back, then the Galatic Federation will destroy Hamsterveil and the experiments.  Lilo shows up and reveals she named 221 Sparky and has him.  The real good part is where Cobra claims she cannot see how complicated the situation is when she is like him taking a third option, save everyone by using Sparky as a distraction, which gives Stitch time to save Jumba.  Despite that Hamsterveil gets the experiments, and Sparky takes out the Galatic Federation's ship before it can destroy all 624 of them.  Hamsterveil and Gantu with the experiments get back in the ship.  Lilo and Stitch run after them.  This is less heroic on a rewatch since Lilo was useless from here onward except for a bit of keep away Stitch could have done by himself.
They successfully get the experiments out of the window, and the case breaks letting them fall freely back to the island.  It looks happy until Pleakly points out how dangerous they will be and the chairwoman agrees with Pleakly.  to make it worse Lilo and Stitch are captured.  I still do not know why Stitch cannot go through the glass, but I guess Gantu used better material.  Hamsterveil threatens them from a huge pile of phone books.  He plans to cut Stitch in half so he can clone him.  Gantu is teleporting Lilo to a soup company.  He then gets distracted as 625 is getting a huge order of baloney teleported to them.  As everyone knew would happen Sparky comes in to save Stitch.  They easily overpower Hamsterveil.  Getting to Lilo is harder, as the music and grunting makes it obvious the ship is hard to move through and the walls do not let Stitch climb them like he normally can.  He gets here, but he cannot stop the teleportation.  He then realizes it was for the baloney and frees Lilo from the other one.  Gantu then chases them and sees someone is stealing his ship, but it is just 625 wondering where his baloney is.  All he has is cheese and bread.  It was actually a red herring and Sparky locks the doors and sends Gantu's ship crashing on Earth. It also turns 625's sandwich into a grilled cheese.
They get back to earth.  Hamsterveil is arrested.  Sparky finds that he can do a lot of good at the lighthouse, which had no power before him.  The councilwoman then says she will evacuate the planet and gas it to destroy the experiments.  Lilo convinces her not to, as they will find them and turn them good.  Now I feel the ending is a poor set up, but when I was younger this made my whole family really want to watch the TV series, which is really good.
Today I do not care for this so called film (more of a pilot), but as the target audience I thought it was a great pilot.   It is still funny, and it has good action.  It lead to a very good TV series, and I do like the new characters.  It is just too dull with the story for me now.