The first sequel.   It only has one preview of "The Adventures of Timmy the tooth."  It includes the villains capturing the sun with a rope.   I think that sounds fun  The Universal logo starts the film.  It does not begin with a description of long ago.  It shows meteorites in space (foreshadowing 3), and The Great Valley with music from the original playing.  The narrator talks about "The Dreaded Sharpteeth" and shows Chomper's dad.  At the times he is ambiguously the sharptooth from the original and Frank Welker's roar is very frightening.  In the meantime the prequels have their first song.  This is not confirmed, but I noticed all three songs are in the first half.  It makes me think executive meddling forced this to be a musical and Smith wanted the songs done rather quickly.
I think that is the same ledge they were on at the end of 5.  It is a good song if you remember that they just got to the Great Valley after the first film, and it does a good job showing their parents being watchful, which foreshadows a key part of the film.  Having survived the journey there the children view themselves as more impendent, but the adults still see them as children for a good reason.  It also uses words like "sun" and "clouds" instead of bright circle and sky puffies.  I really love how they o not use proper scientific terms by simplifying them to a basic English understanding.
The next few parts is a natural extension of the theme that Littlefoot feels too small (like in 11 but done better by making him less whiny).  It also shows The Great Valley is full of dangers further proving it is not Heaven.  It has volcanoes, dangerous Geyser things, and hostile egg stealers ( presumably the one in the original that tried to get Littlefoot or the one sneaking in during the credits).  With Jeff Bennet and Rob Paulsen voicing Spike and Petrie they are also several minor characters like Ozzy and Strut).  They are after eggs.
Like the ending to the original Cera calls Littelfoot to play, but they are bored, as they unknowingly stop Ozzy and strut from taking an egg.  They eventually decide to play past the sinking sand.  Thanks to Cera's less than stellar jumping abilities they get stuck and are only saved by Grandpa.  With this going on all of their parents are mad at them and not as trusting as earlier.  Cera gets them to all leave at night.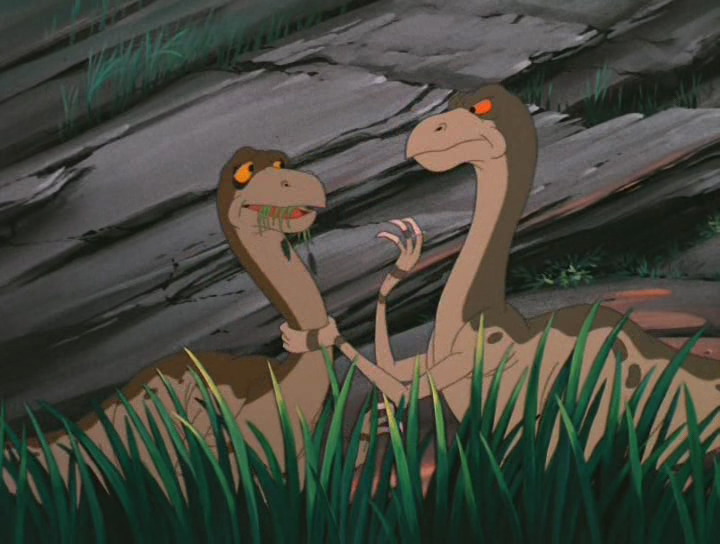 In the meantime Ozzy is starting to be present as drug addicted killer, while Stut is more level headed, but he hesitantly goes along.  Ozzy's love for eggs when they can just eat plants is like a drug addiction.  I do not think too many fans consider his song "Eggs" good, but I think it is the best in the film.  I like the puns and seeing him get so angry at is brother, and I always laugh at some point.  Ozzy becomes the only dinosaur in the series to say his species name.
The main characters besides Littlefoot decide they do not need parents (I am pretty sure this film was a major part of me deciding the reverse).  Littlefoot does not like their idea of running away to prove it.  They eventually notice Ozzy and Strut taking an egg from Ducky's family.  Littlefoot wants to tell the grownups.  Lead by Cera the others want to catch them to prove they are not hatchlings.  Some fans are annoyed Cera is so much nicer ignoring she got nicer at the end of 1, and events change people.  I really loved it how they resected us enough to keep character development.  Cera reasons they have a 5-2 advantage (size wise I think they are outnumbered).  They give chase and foreshadowing Chomper's shadow Ozzy and strut only see the shadow and think they are huge.  Eventually they hide in a cave.  Now Cera is scared saying they should get help.  Littlefoot has also switched saying doing that would this late would let them get away.  Ducky and Spike are with him and Petrie tags along.  Also like in the original Cera is scared of Thunder.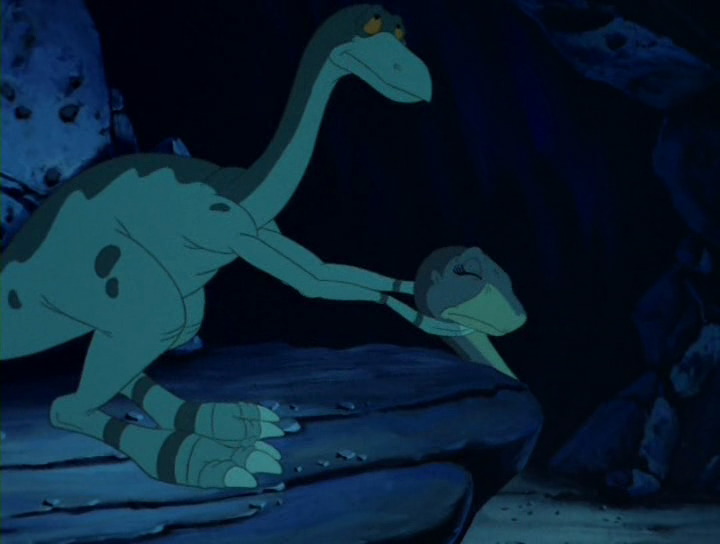 In ensuing chaos They smash into a rock formation making a huge hole in The Great Wall separating The Great Valley from The Mysterious Beyond."  The egg never actually hits the rocks thanks to the egg stealers trying to safe it, and it rolls back to its nest.  The main characters fall to a swamp filled with sharpteeth skeletons (like what the bullies walked through in 3).  They find an egg that they assume is a grown up egg from earlier.  They make a carrying nest to get it back, but find that the egg is already back.  Littlefoot wants to tell the grown-ups, but Cera by threat o violence makes him not under the assumption they will be punished for leaving.  I think she actually is mad at her daddy and wants to keep a secret from him.  The egg stealers prepare to take it back until it hatches, and it is a sharptooth.  The rest flee and run over the egg stealers knocking them unconscious.  Littlefoot stays to raise it.  He tries to teach him to walk, names him Chomper.  He then realizes the food source is a problem.  He refuses to eat plants.  Some critics said the message about acceptance is broken due to the food issue.  They are mistaking 2 with 5.  The food part is never hidden at all, and that is why Littlefoot and Chomper cannot stay together.  The message is really that parents know best and like his parents Littlefoot has to accept that he cannot take care of Chomper due to not being able to feed him like his real parents can.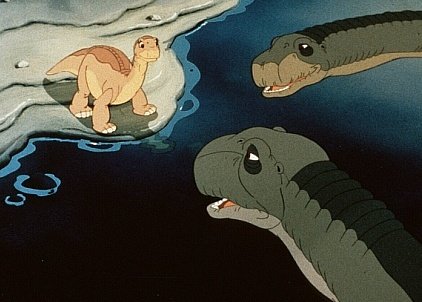 In a cute scene he asks his parents for information under the lie that he is just curious.  They think it is just their grandson dreaming about being older, and play along.  In the meantime Ducky, Spike, Petrie, and Cera think sharptooth ate Littlefoot and the egg stealers attack them.  Littlefoot just realized Chomper did not obey him about staying in one place.  He finds him, but then notices the egg stealers are about to throw the others off a cliff.  He fails to save them, but Chomper's shadow scares them into leaping to safety and great pain.  Unlike the yellow bellies the animators did a great job at making these guys look fit.
If this did not come out the same year as The Lion King I would think one of them was inspired by the other, as they both involve herbivores trying to raise a carnivore who eats bugs.  Of course here it is used for drama, while in The Lion King it was used for comic relief.  They sing the final song already "Family and One of us Now."  I never notably liked it, but it is perfectly fine.  Chomper ends it with biting Cera on the tail turning all but Littlefoot against him.  Ducky and Spike also turn against themselves realizing theyare acting like their parents to Chomper.  Chomper runs off.
For the first time until nine films later two sharpteeth enter The Great Valley.  Ozzy and Strut climb their way back up (arm day today and leg day was yesterday I guess) they go for another nest, but the children's screaming alerts mommy to save them.  Ozzy is clearly mad while strut is slightly funny scared at the same time. Ozzy vows to kill them in retaliation.  The gang saw Chomper at an active volcano.  Time to completely ignore the poisonous gases.  I am really wondering how the volcano did not affect the valley more than the drought next film.  The egg stealers find the main characters and threaten to throw them I some boiling water.  Strut laughs happily.  I have mostly left out that Strut is slowly becoming more murderous like Ozzy.  It is not really important to the main plot, but it does help keep the character interesting and show the audience what bad company gives.  It started when he was mad the children took their egg.  Cera claims they are friends with a huge  sharptooth, but she slips and mocks them for being scared by a baby sharptooth.
        Chomper distracts them by biting Strut, but it is the volcano's lava bombs that scare them away actually saving them.  The lava is no where near as threatening as the fire and pales in comparison.  Eventually there is a huge drop off on one side, a cliff on the other, egg stealers trying to kill them on another, and lava the way they came.  Due to his growing protective instincts as he wants to protect someone he considers to be like a son, Chomper, he can now knock down a tree to make an escape path.  Ozzy and Strut fall down and everything now looks good until the sharpteeth came.  In a major way Ozzy and Strut are like Sue from 10.  They could have been written out (harder for them than Sue), but they serve as red herrings making the actual big moment seem bigger.  These sharptooth move faster and more normally than the one in the original and more like a cross between him and the Jurassic Park T-Rex.  They also make a show of stomping on every tree they see.  In a good move after one instead of finding The Great Valley it is now heavily threatened.  After hiding Littlefoot reminds them and the audience that they caused it, and he wants to take responsibility by fixing it.  Mama Sharptooth then successfully beats Grandpa in a fight but Petrie… Petrie's mom colored wrong and then right distracts her long enough for Grandpa Longneck to get up and just leave.  I guess he was telling the others where they were.
           This next climatic fight is not as polished as later ones but it has many good parts.  The gang fights them with tripping them with vines (Littlefoot and Chomper).  Cera rams one, but unlike in 10 sharptooth is moderately annoyed and Cera is on the ground.  She is saved by Spike dropping a huge rock.  It is then Papa sharptooth who makes problems by nearly killing Spike.  Ducky jumps on his nose.  Mama sharptooth tries to eat her, but Petrie moves her.  Mama bites Papa on the head
    They nearly fight but go back to get Petrie and Ducky until their parent arrive.  I guess the stegosaurus and Ducky's mom stays in the rear, as Grandpa and Grandma take out Mama Sharptooth and Mr. Threehorn beats Papa Sharptooth.  They then flee, the children come out of hiding, and "If We Hold on Together" plays making it better by default.  Chomper quickly follows the other sharpteeth.  Cera spills the beans about the hole and the grown-ups go to close it.  Littlefoot chases after Chomper and finds him, but so do the sharpteeth.  Littlefoot gets stuck and thinks he and Chomper are done for until the sharpteeth kindly lick him and put them on their head.  Littlefoot lets them leave until he is captured by the egg stealers, and it is Strut who suggests throwing him off the Great Wall (this is the only film to use those three words).  Making Strut get more villainous kept these two surprising, threatening, and interesting.  Chomper hears and leads his parents back to the egg stealers, and they save the day.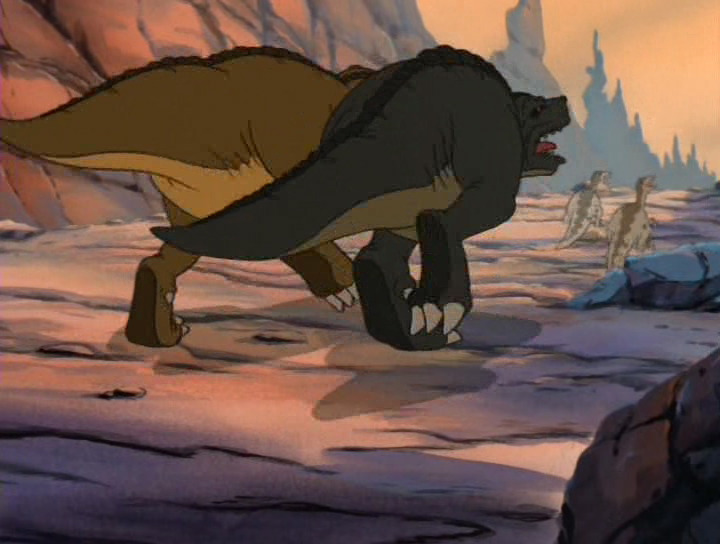 Technically the chase last until 4.  In a rather emotional moment Chomper is torn about who to stay with, but Littlefoot insists he go with his real parents who can take care of him.  He leaves and the others arrive in time to tell him goodbye, which is important for Chomper's ending if he did not show up again.  This is bittersweet enough to leave a sequel, which could even surpass it.
          In the closing actions it is confirmed that the main characters are on good terms with their parents again due to accepting their dependence on them, and a reprise of "Peaceful Valley" is played, and it is actually better than the full version.
          The villains are very good.  The moral is very good.  The action is fine, but the beginning and not so amazing songs hold it back from the best sequels.  Then in the credits one key animator is named "Thomas Decker" giving him a very similar name to an actor later in the franchise.
The new climax ranking is 3, 5, 6, 10, 7, 2, 14, 4, 11, 12, 8, 9, 13
For the first time the new film has no songs to be added to the top 15 song list.  "Eggs" is the best, but it is not as good as "who Needs you."  Of course this list was put together rather hastily, and most years it would be different especially after the first 4.
The new running time order is 10 (85 minutes), 14 (82 minutes) 12/11 (81 minutes each), 6 (77 minutes) 13 (76 minutes), 9/8/7 (75 minutes each), 5/4/2 (74 minutes each), 3 (71 minutes)
The new film rankings are 5, 7, 3, 2, 6, 10, 8, 14, 4, 12, 11, 9, 13.  It depends on the year about whether 3, 5, and 7 are ordered, but they are the top 3 sequels.  The odd numbered films in the second half are notably the worst of the series.  It depends on the year about how I rank the even numbered films, but 6 and 4 heavily change each time.  I decided two is the best of them due to being a major part of the series and direct-to-video.  It is nowhere near as good as 3, but it is very enjoyable.
My favorite eras in order are theme (5-7), Roy Allen Smith (2-4), Full CG (8-10), and Later (11-13).