Many older fans do call this the best of the sequels, as it has very scary moments, intensity, high stakes, and a surprisingly complex theme for the title.  The theme is that anger leads to more anger from others, and that stops teamwork from being effective.
The Previews here are very good.  I like the commercial to the second film, and it does make me want to watch it again.  Then it gives a commercial where they sing "All Sorts" from 4, with clips from the film instead of most the song clips, and I like that better than the actual song clips.  I remember saying Babe has a commercial for this film.  well it has a commercial for Babe too.  It is very good and fast paced.  The "Timmy the Tooth" commercials are better in 2.
Of all the sequels this has the best opening.  It uses the same music from the original film.  It talks a lot about evolution and how single celled organism became land dwellers, yet I it is actually because of these openings I became  a Young Earth creationist.  I got exposed to so much evolution I turned against it.  I still like seeing the animations of it.  They even got the narrator to say "dinosaurs."  I also like how it briefly shows feathered raptors and then they take out a three horned like dinosaur.  Like 2 it role calls the entire group.  Littlefoot the longneck.
Cera the Threehorn (who has one horn for now).  Ducky the swimmer (who is hardly ever shown swimming), Petrie the Flyer (Still love him), and Spike the Spiketail (a little redundant).  They are using a huge rock as a ball until Hyp and… Nod and Mutt.  Unlike Rinkus and Sierra they blend together.  I know the bullies are often hated by older viewers, but these three are great, as they actually come off as murderous.  Just considering how soon this is from the original it makes sense.  The group is yet to save anyone living in the Valley so no one owes them anything.  The bullies are teenagers who probably dislike that some children have had a far more adventurous life than them.  In their opening talk Littlefoot views them as potential playmates.  Petrie views them as bullies and dislikes them.  Ducky and Spike agree with Littlefoot Cera not only agrees with Petrie but tries to fight them, which makes Hyp excited until a meteor shower comes including a big one into The Mysterious Beyond.
Seemingly no one is dead.  Littlefoot and Grandpa point out that now the danger is over it is a pretty sight from the "flying rocks."
           Then the water source stops flowing.  I mentioned in my review of 6 that there are other water sources.  Since they have not been in The Great Valley for long I guess they have not found them yet.  Grandma and Grandpa do not want Littlefoot to hear the others fight and ask him to go play somewhere else.  He does that as we can hear the grown-ups fighting.  Littlefoot meets with the other children where to further Show spike's hidden intelligence he hides before the bullies show up.  The song are again written by Michele Brourman and Amanda McBroom, as the first one "When You're Big" is sung.  Unlike Charles Grosvenor who used one film with sentient villains in eight films Roy Allen smith used three in thee films, and they all have villain songs.  I know this sounds like the song I usually hate being a villain song and just talk about being evil, but I love it.  It captures the destructive energy teenagers and their pure threat level.  It is also so catchy.  I have seen some good fan videos of it with Jurassic Park dinosaurs.  After the song Hyp tells Nod and Mutt how they will presumably kill the group for fun, as they sneak out.  They miss Spike who just hid.
After that Grandpa's water conservation plan is basically to trust everyone to do their part.  Being the small government supporter I am I am okay with the idea, but it needs work.  I presume everyone else just interrupted him before he could finish.  Mr. Threehorn suggests firm action against wasting, and he unintendedly starts many others going on a crusade on who has previously wasted the least water.  Another lesson in the film is cooperation is needed to survive the hard times, and the grown-ups do not have it, and the immediate negative effects of the film start.  At the same time the bullies splash some water and Mr. Threehorn accuses Littlefoot (presumably thirst and hunger is making him less sane).  He deems Littlefoot a bad influence, which makes Ducky wonder what influence is, which is surprisingly funny.  He also demands that Cera stay away from Littlefoot and she angrily goes with him until night when she runs off.  It is then shown that Mr. Threehorn is overly worried about his daughter, which makes him angrier than usual, which Cera can tell.
In a key moment showing that Grandpa does know best they educate Littlefoot and most the audience on morning dew.  They get an okay meal, but the food is dying out fast, as the valley dries up.  It is also revealed that off screen they made a time schedule for each herd, but Grandpa says it does not affect the Children, and Mr. Threehorn disagrees.  It is surprisingly hard to follow the logic that Mr. Threehorn's problem is he refuses to compromise, but he gets a song.  "Standing Tough" is surprisingly enjoyable.  It furthers his motivations that they will die without him doing it and any compromise is weakness.  They are too busy fighting to notice Littlefoot leave with Cera.
To further the depression of losing water there a few quick silent scenes showing how the water level is clearly way lower, the fish are struggling, and there is far more dust than usual.  The group finds water (I like to think it is the same pond that dried up in 6), but the bullies show up.  In a move that really sets them apart instead of trying to take credit for finding water they give the gang a decision, never tell anyone about it and let the bullies only use it or die.  In short their plan is to have water and let everyone else likely die.  Instead of lying that they will not tell and then tell (no one would fault you) they say they will not and flee.  They are saved by a wasp chasing away the bullies.  I really like that.  The group goes a strange route reasoning their larger pursuers could not cross where they see the desert part of The Mysterious Beyond, but it is covered in the water that would go to The Great Valley, as flying rocks dammed it up.
They go to tell the grown-ups sure they will know what to do, but as Grandma warned earlier a fire starts.  Unlike the fire in Bambi that uses an orange fire that engulfs the forest, this fire is mostly smoke blotting out the vision except for a very red fire burning every tree and piece of vegetation near it.
        This fire is quite scary.  Michael Tavera is alternating music from 2, and it is actually working better here than in its original use.  Presumably due to their bickering the grown-ups missed the smoke.  It also would have obviously been seen by The Great Valley residents not near the water.  Mr. Threehorn takes command and gives an escape route, but Grandpa points out it is heading downwind where the fire will spread and he gives an alternate route.  Instead of listening to superior advice and noticing he is wrong (When you should devote to the one group ironically) he is fine with them going another way, but he orders Cera to go with him.  Grandpa goes to stop them, while Grandma leads the others to safety.  The smoke gets to thick so Littlefoot (closer to the ground) has to take charge and tells everyone to use their voice instead of ears.  It is the first time he saved the valley instead of just an individual or his friends.  The music then gets even more scary, as it shows Mr. Threehorn and Cera running.  It is slow and constantly makes it clear how much of the valley the fire is destroying.  It is also clear that Mr. Threehorn is watching for Cera more than himself, but they eventually get trapped.  Grandpa saves them by knocking a tree on the fire, and they run out before it is engulfed in flames.
         They arrive as "If We Hold on Together" plays.  Everyone but Mr. Threehorn is at first optimistic, but his pessimism runs into everyone.  Grandma gets Mr. Threehorn happy by mentioning his daughter being safe, but most others are convinced they are doomed ( a good trailer shot).  They know the water would have to be covered in sharpteeth.  Mr. Threehorn says no place is safe unless they free it. Mr. Clubtail (voiced by Rob Paulsen again) points out his plans could not be worse than his fire escape plan resulting in them roaring at each other.
Grandma says they are acting like children and finally a movie has a kid defend themselves when that happens.  Thank you Petrie.  We can hear the adults fighting as Mr. Threehorn wants a quick plan and Grandpa wants a well thought out plan.  The bullies decide to get it themselves.  The main group notices and besides Littlefoot they are rooting for the sharpteeth.  One reason I love "When You're Big" is because it is deconstructed in another song, "Kids Like Us."  I should point out at some point.  Thomas Decker voiced Littlefoot for 13 songs, while other Littlefoot voice actors voiced him for only 15 songs over nine films, and this is the only time Littlefoot sings in this film.  It perfectly contradicts every point made in Hyp's song.  I love it.  After that they go to help Littlefoot with the last one being "a scaredy egg."  My brother and I used that insult so many times.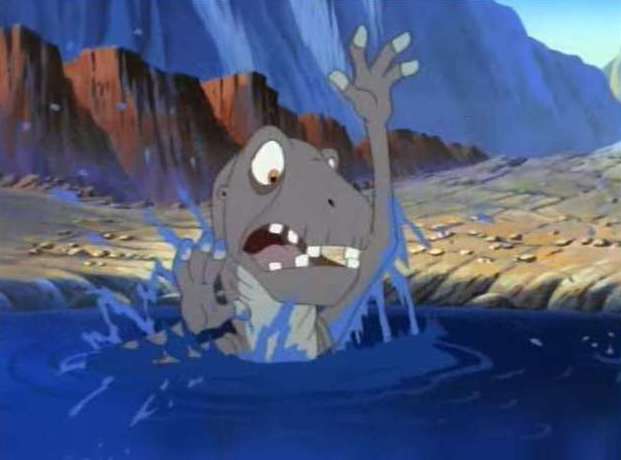 Hyp gets stuck in  a tar pit (the toxic tar is at the bottom, so he did no drink toxins).  Littlefoot hears, and from the first film they know how Tar works.  They make a dinosaur ladder to pull him out.  Humorously and important for Hyp a buzzing stinger (he is scared of them) lands on his nose.  He must overcome his fear and stay still in a funny pose.  He eventually falls in, but Petrie pulls him back up where he is pulled out.  Petrie is so amazing.  Hyp denies he needs help until he sees his dad coming and cowers behin the main group.  It consists of Nod's father (prumably), Hyp's father, Mr. Threehorn, Grandpa, and Mr. Clubtail (I presume he is Mutt's father but Wikipedia disagrees with me.  Maybe he is friends of his family or just brave).  We have the dull reveal the bully has a rough father and Mr. Threehorn reveals the error of his way until Mr. Threehorn of all dinosaurs gets very preachy, which is a good touch.  Nod is crying about being in trouble and "THAT!"
        This is the first time I ever saw velociraptors, and four of them show up.  I love the shot where one's foot goes down, and his claw comes up.
There are four of them.  One lunges at Grandpa, but he uses his tail instead of his head (like in 10) as bait.  He then hits him to Mr. Threehorn.  A rock falls on his head, and we never see him again.  Based on what his friends do I presume he was the weak scout they sent in.  Hyp's dad takes the children to safety, and the rest face the others 4-3.  Well Littlefoot looks back and sees Grandpa is double teamed, and almost stops to help.  It does contrast form earlier how nicely Hyp's dad tells him not to look back.  Despite most likely triple teaming the other one they cannot beat it I presume because they must have put Nod's dad on him.  The grown-ups make the wall defense, which is horrible in real life because they attack the weakest link, but in movies it often works, but not here, as they just run around or even over Nod's dad.  He should have stayed home today.
The children and Hyp's dad see them from the high ground in front, but the grown-ups have a growl off with them, and we hear shaking as if there battle is making an earth quake.  Then all seven of them fall.  The grown-ups are out, but somehow all three sharpteeth shake it off.  What steroids are they taking?  Hyp's dad runs off to the rescue in a scene that would be horrible if the pacing was not so good making it awesome.  It goes from slow paced to so fast.  I presume the sharpteeth are still shaken up from the fall and too bruised to move fast, and their steroids affect their brains.  Nod and Mutt mock him, but Hyp goes down to distract them, but all three go after him.  The sharpteeth chase Hyp, but Grandpa takes them all out in one hit (I am pretty sure that should kill them all).  The sharpteeth flee to the rocks to get the children, but Mr. Threehorn takes out another one who gets buried in rocks.  I know I often criticize the show for throwing rocks at them too much… Actually I only did that in 13 and 10.  Well it really starts right now, but the music and theme coming together about working together, and Hyp's humor make this rock throwing work so well.  Unfortunately all three sharpteeth catch second wind again (I also have to question why Grandpa used his head as bait with no counter attack as usual).  It then turns out all the rocks they knocked around has freed the water.  The grown-ups flee to the high ground, while the velociraptors are swept away.  A later scene shows all three on shore seemingly kissing it.  That was awesome.
Surprisingly the falling action is very long, and kind of boring, an it includes a title drop.  Only 3, 7, and 12 have title drops and this was the only one that was forced.
Overall this has a great use of silence and pacing.  The songs go together so well.  The theme is remarkably adult and child centered.  The climax is amazing.  It took clichés that children were not yet well aware of, and it did great with them.  As the target audience this was my second favorite of the series after only 5.
The new climax ranking is 3, 5, 6, 10, 7, 14, 4, 11, 12, 8, 9, 13
The best songs are now 1. Very Important Creature (7) 2. Beyond the Mysterious Beyond (7) 3. Kids Like us (3) 4. Bestest friends (10) 5. Always There (5) 6. Grandma's Lullaby (4) 7. Big Water (5) 8. When Your're Big (3) 9. "The Lesson (8) 10. "Family (8) 11. Adventuring (10).  12. flip, Flap, Fly (12).  13. How do You Know (13). 14. "On You're Own" (6) 15. Who Needs you (4)
The new running time order is 10 (85 minutes), 14 (82 minutes) 12/11 (81 minutes each), 6 (77 minutes) 13 (76 minutes), 9/8/7 (75 minutes each), 5/4 (74 minutes each), 3 (71 minutes)
The new film rankings are 5, 7, 3, 6, 10, 8, 14, 4, 12, 11, 9, 13.  3 was a heavy contender for the title of top film, but I enjoy 5 too much as a kid and 7 too much as an older viewer.  It 3, 5, and 7 are the top 3 and very close, and they are the notable big three.