The last film of The Roy Allen Smith Era, and the last one to be directed by him.  It is written by Dev Ross.  Besides The Wisdom of Friends (13) it is the only one without Littlefoot on the mid cover, which has Cera's tail.  That was always odd to see.  Also Warren Taylor instead of Jay Bixsen is the editor.  Icky has a pair of binoculars on the front cover above, which foreshadows his song.  Most critics hated this, but the target audience loved it.
The commercial to Flipper brings back memories, as my sister loved it, but it feels nothing like the film.  I cannot say the commercial to this film, which is next, is good.  The "We Sing Dom" commercial is also poor.  The most interesting part of the trailer is they put the Universal Cartoon Studios logo before instead of after the film.
Unlike the others it right away reveals the title.  Based off this and the poor animation I think it was made really quickly.  The opening does have some good foreshadowing when a whale opens his mouth to resemble a crocodile.
It is also impressive when he jumps out of the water.  We also get to see some egg stealers (presumably Ozzy and Strut) included) running from a sharptooth resembling Chomper's dad (a popular misconception is there is no land sharptooth this film.  Only 9 as that distinction).  I guess they ran back to the herd, so they would only have to outrun their slowest herd mate.  Back in The Great Valley Cera knocks food off a tree and laughs by saying "Hee."  I know that with Candace Hutson as her actress she did that a few times, but she does it five times in this film.  I surprisingly found it to be a cute laugh that sounded like it came from a kid.  Littlefoot chases a Drangonfly and sees a herd of Longnecks coming in.  He and his grandparents go to greet them, but Grandpa has trouble getting there.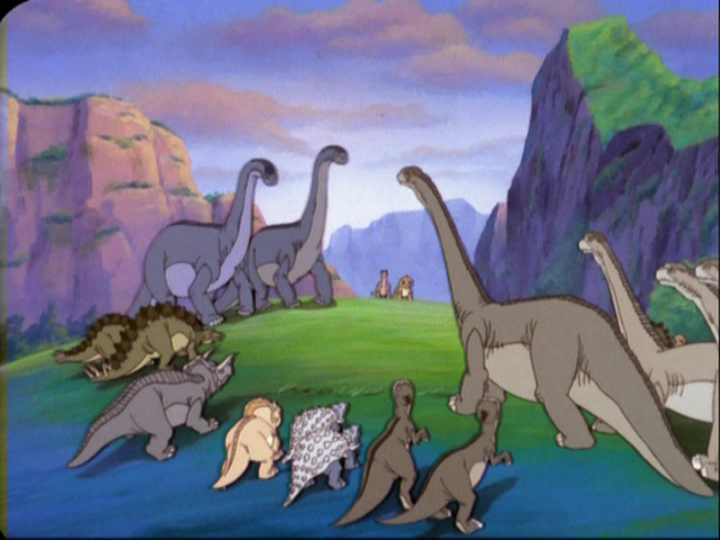 The  grown-ups meet the herd.  Mr. Threhorn is really quiet after getting nearly the entire valley killed last movie.  Besides 13 this is the only one where he never talks.  The longnecks are lead by "Old One."  She is called wise, which Littlefoot doubts.  She uses fear tactics to get others to join her migratory herd.  When she asks about The Great Valley they say it is the same as usual.  I guess a fire, drought, and famine in the last movie is normal.  Further proof this is not Heaven.  She then starts with the fear tactics by going on about how everywhere is changing for the worst and only Longneck safety in numbers can survive.  I would consider safety to be who can eat all the food before anyone else and ignore them, but it is convincing Grandma and Grandpa.  I do like how a few longnecks next film look like her herd implying a few got smart and stayed in The Great Valley.
Littlefoot and his friends play catch Cera where he meets Allie (no romantic interest, but it makes me wonder if the producers actually shipped Littlefoot and Cera like a few fans do).  Allie likes Littlefoot and is scared of the others due to them being different.  It is a good call back to the first one, and it fits the moral that all types of people are needed.  Littlefoot decides to play with Allie instead of his older friends due to her funny faces.  None are actually funny, so I presume he really just wants to make The Valley's guests happy.  Seeing that makes Cera declare Littlefoot to no longer be there friend.  In a good move the others vocally disagree, and it is obvious Cera does not mean it.
Grandpa gets deathly sick.  The only way to potentially save him is to for him to eat the nightflowers, which are where the migrators (not called "far-walkers" or "wanderers"for some reason) are from.  Grandma gasps for the second time this film, and is discouraged when no one will help her get it.  Littlefoot is determined to get it.  Grandpa makes him promise to leave with the migrators with Grandma if he dies, which I find to be faulty logic, but The Old One really got into his head with her fear tactics.  I am really glad she has a small role.
Grandma sing the first song of the film and her only singing role in the franchise, "Grandma's Lullaby.  Leslie Bricusse wrote the songs instead of Amanda McBroom and Michele Brourman like all the others so far , and she did very well.  The song says the words "circle of Life" which got one of the worst internet fandoms angry, The Lion King internet fans.  They are overly paranoid everything is ripping them off.  Here is why it is not a rip-off that anyone should be able to see right away.  The Circle of Life was also mentioned in the first film, which came out six years before The Lion King, which turns the argument around using their overly simple logic.  Now it means The Lion King ripped off The Land Before Time, and there are plenty of other similarities before them.  This film is doing what sequels are supposed to do and remind the viewers of the original.  Some further proof the are not hoping to simply cash in on its success is the second film came out the same year as The Lion King.  It also mentioned the circle of life.  Both arguments still fall apart due to a major detail, both have entirely different definitions.  The Lion King uses a definition that connects all life to a food chain.  The Land Before Time and its sequels have a different definition.  It uses a circle to connect all parts of life and we all have to die at one point.  The final point is that "The Circle of Life" is not original to either film by a longshot.
The song itself has some very nice visuals, and it does not shy away from the darkness it implies.  I really like it.
Littlefoot sneaks off to find the night flower.  He first enlists Allie since she knows the way,  but she convinces him it will be faster to bring no one else.  I am starting to think Cera has a point.  Grandma is not happy.  Ducky volunteers to go get Littlefoot, but Grandma makes them promise not to presumably knowing it is all she can do to keep them in the valley.  There is actually an important landmark coming up when they leave.  This is the first time since the original a majority of the film takes place in The Mysterious Beyond.  Allie and Littlefoot arrive at he best part of the film, the cave.
An earthquake (another callback) sepearates them.  Allie leaves to get help being on the right side for that.  Littlfoot meats a turtle who looks very similar to the ones he saw in 9 and in the opening to the original.  I love that part.  The turtle is named Archie, and he helps Littlefoot despite pulling a muscle.  Allie gets the others, as they agree after Spike decides to help her (good job Spike), but Cera stays back not trusting Allie.  It is obvious she will come later.
We are then introduced to the villains, who had a few quick glimpses earlier.  A crocodile named Dill and a sharp Beak named Icky.  I expected to heavily criticize them, but in the cave Icky is plenty intimidating and they are actually really funny.  They even argue like an old married couple wile singing "Who Needs you."  As a 13 year old I thought this song was hilarious.  My sisters still love it.  I still like it.  One real problem though is a giant prehistoric crocodile is not as cool as a theropod.  They eventually find Littlefoot and Archie and chase them down.  With the rest only Spike is getting any rocks moved until Cera shows up and literally destroys rocks and one falls on Dill's head knocking him out and taking out Icky too. Allie is the least useful.  The rock scene in 3 is really paying off.
Archie knows the way out and shows it as "If We Hold on Together" Plays.  It is very fitting for Archie's speech about staying together.  I know I glanced over the cave scene rather quickly to save time, but it is a very good highlight, and I love it.
We are introduced to The Land Of Mists in a very similar way to The Great Valley, but it is much darker like it is evil.  They go to look for the nightflower.  Cera gets really scared (she has a lot of cowardice in her) by a serpent.  She should have done what Spike did, put Littlefoot's tail in his mouth to not get lost.  Some boneheads start slamming into each other.  The egg stealers from earlier all run into the river and are presumably eaten.  Surprisingly they forget about Cera to find…
It is a fine scene except forgetting about Cera.  They then find Cera making everything look good again.  She gives another "Hee," but she falls into the river due to the rocks falling.  Ducky throws her a vine.  Oddly Cera sees Dill and Icky coming to get her and does not swim to the rocks to climb up.  Icky instead of feasting on egg stealers cuts the vine.  They go to eat Cera instead of the horde of egg stealers due to their bad breath I guess.  Here is when Dill's lack of threat hurts the film.  Dill gets stuck in a tree leaving the less threatening villain around.  Allie goes down to save Cera, which works and they finally like each other as "If We Hold on Together" plays.  It also contrasts the villains arguing.  Our final song "All Sorts" is the basic moral, and not much else.  It does give the villains another purpose, as they are too busy fighting over each others' strengths and weaknesses instead of using them to help.  It does have a nice touch when Cera sings with Allie and Littlefoot even though Candace Hutson's singing voice is not as good as Andi McCaffee' singing voice.
Look to the left side of the picture and similar to Icky's binoculars there is a microphone on a pole near them.
I think I know why I like Dill and Icky.  I am so used to them being portrayed as terrifying villains it is nice to see them being the main source of comedy.  The rest of the group finds the nightflower, but Dill and Icky literally just bump into them.  Icky captures Petrie, but Tickles gets him to bite Dill's tail instead.  This turns Dill on Icky until they hear Cera say "Hee."  Realizing where they are they follow them over a bridge where Ducky goes to retrieve a flower by half grabbing, pulling back, and then fully grabbing.  Icky captures Ducky.  Petrie finally makes himself useful by trying to safe her and nearly choking her.   Ducky falls unconscious, and she is about to be eaten by Dill (how did she get down there and why not get the others).  She is woken up by Spike talking.  I actually remember the first time hearing this despite the film coming out the year I was born.  I always thought it was a logical progression that he would talk eventually, and that is a very memorable part.  It wakes Ducky up and with Petrie and Spike's help Dill instead grabs Icky with her mouth.   When she lets Icky out they finally leave.  They say goodbye to Tickles.  They wonder if they will all meet again someday.  Based on what the Evolutionist narrator says Tickles descendants will kill yours so no.
The rest get back and save Grandpa.  He is good, Cera gives one final "Hee."  Five total this film.  The narrator says Allie will return not mentioning it is for a sucky episode of the TV Series.
When I was the target audience I never really cared about this one.  As an adult it depends on the year, but I always love Archie.  It has good foreshadowing songs, and humor, but it struggles in animation and mood.  Like 6 it depends on the year how much I enjoy it.
The new climax ranking is 5, 6,10, 7, 14, 4, 11,12, 8, 9, 13
The best songs are now 1. Very Important Creature (7) 2. Beyond the Mysterious Beyond (7) 3. Bestest friends (10) 4. Always There (5) 5. Grandma's Lullaby (4) 6. Big Water (5) 7. "The Lesson (8) 8. "Family (8) 9. Adventuring (10).  10. flip, Flap, Fly (12).  11. How do You Know (13). 12. "On You're Own" (6) 13. Who Needs you (4) 14. Chanson D' Ennui (9).
The new running time order is 10 (85 minutes), 14 (82 minutes) 12/11 (81 minutes each), 6 (77 minutes) 13 (76 minutes), 9/8/7 (75 minutes each), 5/4 (74 minutes each)
The new film rankings are 5, 7, 6, 10, 8, 14, 4, 12, 11, 9, 13.