Many people wonder how this series had so many fans.  The answer besides it being good is it was an alternative to Disney.  For those of us who did not like Disney we could still get our animation from Universal Animation Studios.
           The first commercial is a very good one for the series.  It mostly uses segments from 5, but they are scattered throughout the first five films.  Next is a commercial to Hercules and Xena: The Animated Movie.  It is a horrible film, but the trailer is awesome. I am okay with the Chipmunks Adventure commercial.
      There are plenty of changes for the series starting with this film.  The box does not say MCA Universal, but the logo in the opening does.  This is the first film of The Theme Era, first film directed by Charles Grosvenor, last one with Andrea Romano as the casting director, the first film written by John Loy solely (out of seven).  The first one with Andi McCaffee as Cera's actress, and the first without Candace Hutson voicing her.  Aria Noelle Curzon replaces Heather Hogan as Ducky.  Miriam Flynn replaces Linda Gary as Grandma Longneck.  all of these actor changes are still around.  I guess they wanted to keep Romano active until they replaced everyone.  Scott McCaffee, Andi's younger brother, was replaced by Brandon La Croix as Littlefoot's voice (Wikipedia says his last name is one word, but the credits made it two words).  Thomas Dekker would voice Littlefoot for the next four films, and he is the singing voice.
       The Universal logo does not make its usual music, but the opening music for the beginning of the film.  The narration has what appears to be a galaxy forming.  It is a dark opening with two herbivores fighting for food until Chomper's mom eats them.  It opens with the main five characters first playfully fighting over the last tree star in their favorite tree, until it gets more serious.  I do not know why they should fight with everything else they managed through.  It includes a chase scene when it blows away, with very bad word to lip synchronization from Petrie.  Mr. Clubtail who is voiced by Jeff Bennet instead of Rob Paulsen in The Later Day Sequels gets it.
         I really should add this.  When I was younger this was my absolute favorite movie.  I have seen this at least fifty times, and can quote most of the dialogue.  As the usual voice of wisdom Grandpa gets them to forget it based on that The Great Valley has so much food.  That is until a plague  of locusts ("Swarming leaf globbers") comes.  The opening before had an overly long foreshadowing, and was poor, but this is great to see.   It helps completely end the believe that The Great Valley is Heaven (which is not supported in the original), and it is quite scary to see it come to ruin.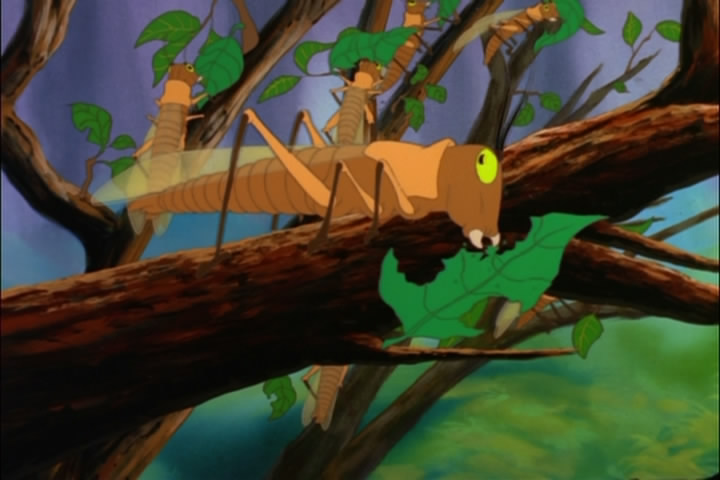 The Series is at its best with high stakes like 8 and 7 have.  This increases it by putting the whole herd's life at stake like 8 did but also intense conflict between them.  With The Great Valley only having water the grown-ups meet in the same place as 3, and Grandpa points out the obvious.  They actually only listen when Mr. Threehorn agrees, as them agreeing is a real shocker.   Grandpa says they must leave, which shocks the others except Mr. Threehorn.  He says all of them are from The Mysterious Beyond originally.  The main characters fear they are dividing into herds, but the grown-ups decide to stay in one big herd (It was revealed in 7 that is how they arrived, but the young ones do not know that).
      The new actors are currently doing perfectly fine.  Hutson was not a good singer, but McCaffee is.  La Croix is not great, but he is doing perfectly fine.  Dekker does a great job at impersonating him as a singer.  Ducky and Cera's new actresses give new youth to the voices.
          For the only time in the sequels the narrator narrates at the middle of the film explaining how they have found nothing.  It is also hard to tell if they are going through the jungle or rainforest part of The Mysterious Beyond.  They find a dead duck bill.  Grandpa says it was traveling from the opposite direction, thus it has no food.  Mr. Threehorn says it walked in circles.  Surprisingly many agree with Mr. Threehorn.  In 11 I understand that, but this is just two movies after 3.  He insults duck bills making them mad.  Littlefoot and Cera then fight.  For a while I thought this was a bad scene, until I realized it is all justified from their exhaustion and hunger.  The herds decide to split up, but at night the main characters leave.
        Their plan is to get the grown-ups to stay together by following them.  The grown ups owe them a life debt from 3, making this a very good plan.  They eventually find a huge ocean, and humorously spit it out.  Even Littlefoot then wants to give up until Spike finds a green island, and Petrie points out a convenient land bridge.  Apparently it is guarded by the tsunami goddess, which attacks them with Spike at the back.  It is a very good action scene.  They are happy to be with food until they realize the land bridge was destroyed.  The grownups followed their footprints and assume they are down the ocean.
          The group sings the song "Big Water" about how much it scares them.  As a kid my brother and I loved this.  Today I do not care for the words, but I love the visuals.  The next plan is from Cera, use a log to float home.  It works well until…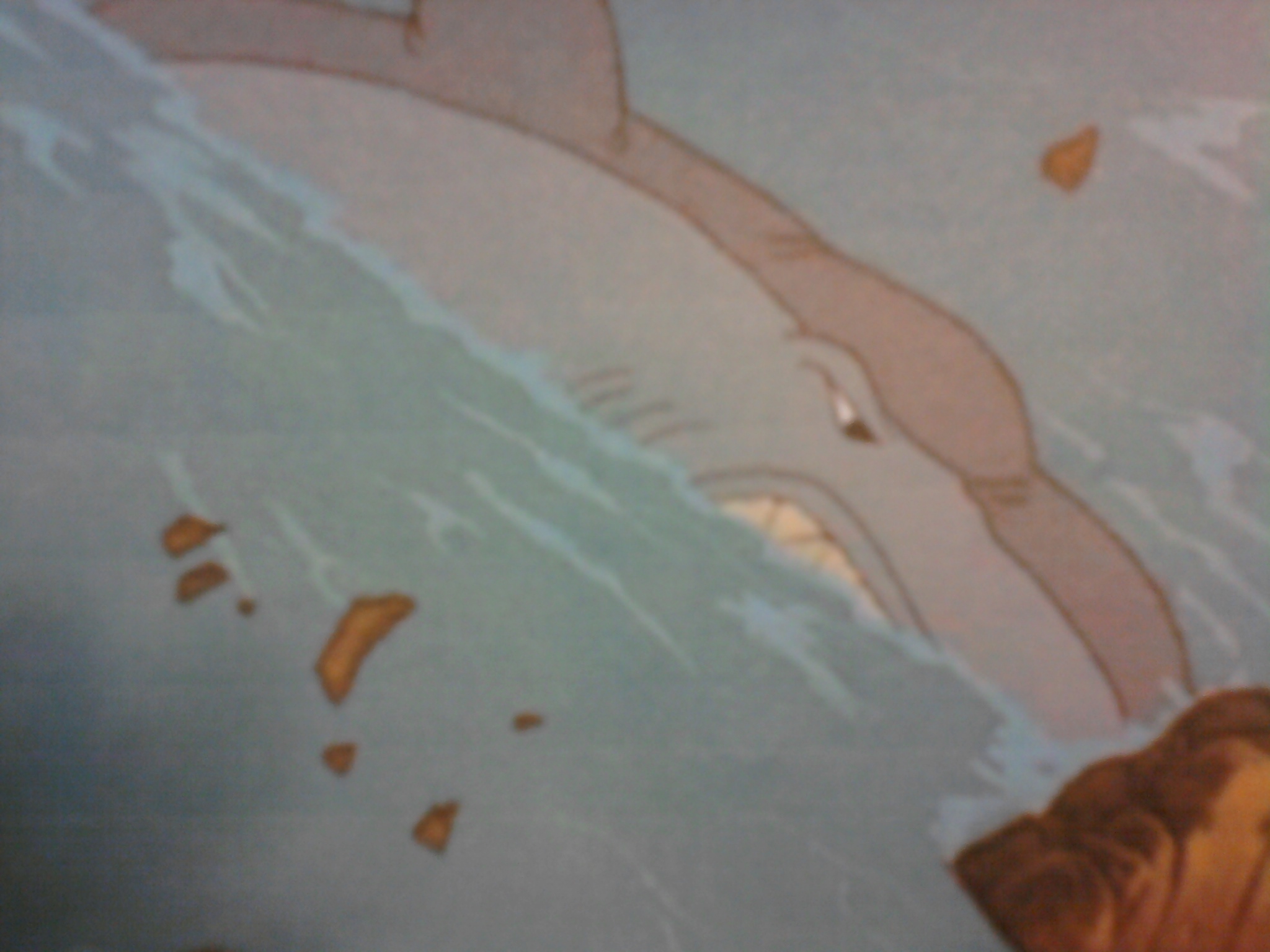 I have been told it is the most realistically drawn animal in the series.  The swimming sharptooth is very scary, and this is a great action scene.  Petrie's reactions are the best.  Also a piranha tries to eat Ducky to foreshadow it earlier.  They finally get back to the island just to hear a walking sharptooth on the island.
Grandpa is giving up hope on finding Littlefoot.  On the island something keeps resembling a sharptooth including a rock perfectly shaped like on (a dark call back to the original).  They sing "Always There."  I really love this song, as it has very good sad parts from all the four singers including Littlefoot singing about his mother.  The next night they are scared by a shadowy sharptooth.  Nothing is scarier, so they keep it hidden, which is a nice different touch.
        It is actually Chomper from 2.  This is great.  Until we are reminded about sharpteeth.  How does he speak leaf eater?  He was raised by them, so of course he is bilingual.  He is sure his parents will love them as friends, but the main characters disagree and hide like squirrels from a dog.  Littlefoot thinks they are intelligent, which Cera doubts.  Littlefoot is shown to be right, and they interpret Chomper as joking and say his friends would be good dessert.  They also get excited when they smell Longneck until Chomper stops them from tracking them down by claiming it is his breath from eating longneck earlier.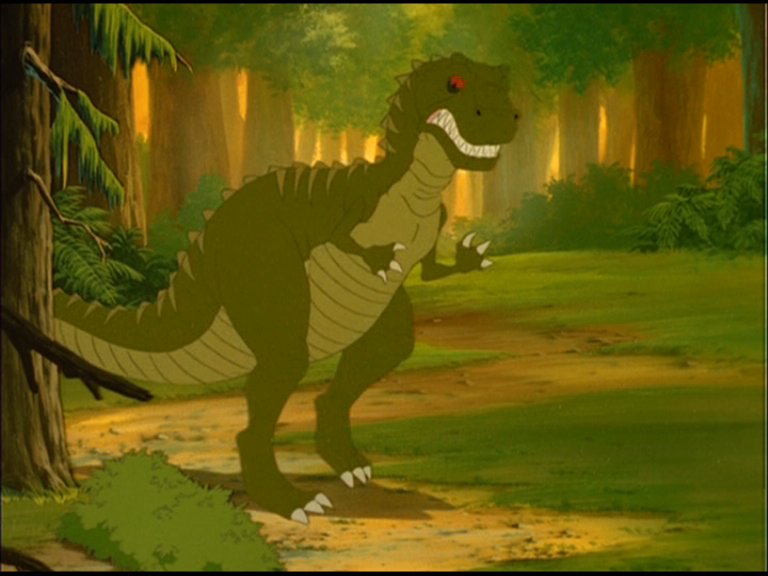 After they leave a Giganotosaurus shows up.  He sniffs out their old hiding spot and eats it.  Frank Welker is wonderful in this film.  His earlier conversation had so many emotions all portrayed through roars, and his portrayal of giganotosaurus is far more vicious than ma or pa sharptooth.  In a side plot Ducky nearly dies by leaving the group, which further shows how besides Littlefoot they distrust Chomper.  I like how they gave Chomper pectoral muscles to help us think he could kill them, but I do not like how he has three fingers instead of two like his parents.  His hiding spot is full of stinky flowers to keep them safe.  He gets them food during the song "Friends for Dinner."  It is the least good song in the film, but still good.  He gathers "anything he wouldn't eat."  His parents see him and "…worry about that boy."  Littlefoot still defends him, while the others half joke about him eating them.  It helps show that they are from two completely different worlds that naturally do not go together well.  Basically a friendship that cannot stay close, but Littlefoot and Chomper are determined to make it last.  They love Chomper's food, but Cera accuses Littlefoot of offering his foot to Chomper.  I guess the journey through the mist left Cera paranoid.  Chomper leaves crying, and the others agree he will turn on them eventually.  Littlefoot rushes to apologize.
     After Ma sharptooth gives some surprising and needed comic relief Chomper and Littlefoot agree that they are very different, but can still be friends.  Chomper knows they took care of him at a young age and wants to return the favor, but Littlefoot knows they have to leave at some point, and he gives Chomper the point while staying very nice and appreciative.
     When Littlefoot gets back to the hideout the Giganotosaurus attacks.  It results in a very dramatic and fast paced chase scene, until they are trapped on a little peninsula with the swimming sharptooth in the water below.  All looks bad until Chomper bites his tail, and Cera charges to keep his attention off Chomper.  He then bites his own tail trying to get Chomper.  Eventually Chomper is trapped too until…
Sharpteeth to the rescue for sharpteeth vs. sharpteeth battle.  Same general length.  T-Rex is 7 tons.  Gigantosaurus is 8.  Gigantosaurus could run and jump better (I have also heard contradictory reports to the gigantosaurus's advantages).  T-Rex has better mouth.  I think the T-Rex has better arms for fighting a big theropod giving it the advantage, as T-Rex arms were more fexible than most theropods giving them superior reach.  They are designed to beat big dinosaurs by holding them still.  Most theropods had inflexible arms that would claw up small dinosaurs, thus I think a T-Rex wins.  The parents do a strategy of tire it out by going one at a time.  Gigantosaurus and pa fight until…
                Sure the blood vanishes later, but this is great.  With a T-Rex's jaw biting it there I think Giganotosaurus has a broken chest.  He fights Ma  despite his busted pectorals and more blood.  She is now nearly down, but Papa hits him in the head with his tail and sends him over the edge, but he knocks Chomper in.  Mama gets up and howls in fear and later anger.  Littlefoot realizes that if Chomper is not saved not only does he lose a friend but the sharpteeth will kill them all, for he jumps in after Chomper with Giganotosaurus still trying to eat them until he floats away with all of his broken bones and knowing he is crippled for life.  It looks good then.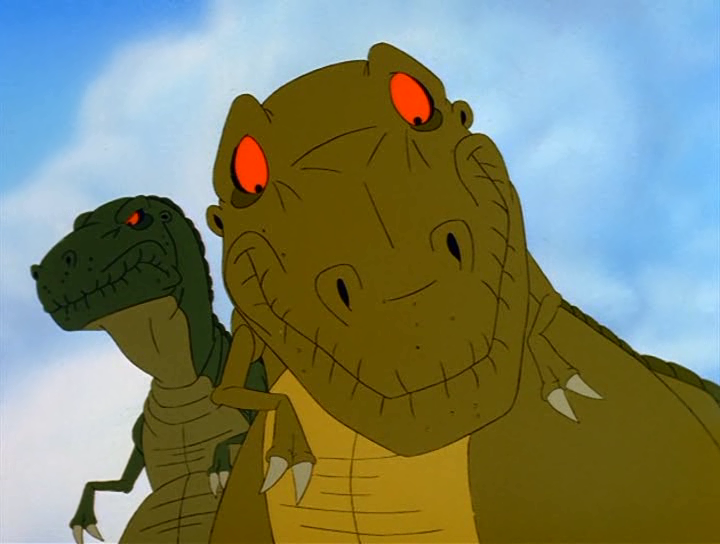 Then the swimming sharptooth shows back up, only to be a friendly swimmer (not the shark from earlier) who gets them up, and can get them home.  Chomper still wants them to stay, and his parents promise to keep them safe, but it is obvious even they have doubts about being able to keep the promise.  In a bitter-sweet ending (partly ruined by the TV series and 14) they leave and make a very sweet reunion with their families, as the instrumentals to "Always There" play.  I know "If We Hold On Together" was played at least once, but it was never notable.
            I still love this film.  As an adult not as much as 7, but as the target audience way more.  The Theme Era is the new top era.  This film has great scenes, lovable guest characters, an intimidating villain and intimidating sub-villains and heroes.  Besides Petrie everyone got a role.  The lesson is that despite friendships having to end due to circumstances the friends will always be true friends to each other by doing what is best for the other.  This film also gives a superior closure to Chomper than 2 does.
The new climax ranking is 5, 6, 10, 7, 14, 11, 12, 8, 9, 13
The best songs are now 1. Very Important Creature (7) 2. Beyond the Mysterious Beyond (7) 3. Bestest friends (10) 4. Always There (5) 5. Big Water (5) 6. The Lesson (8) 7. Family (8) 8. Adventuring (10).  9. flip, Flap, Fly (12).  10. How do You Know (13). 11. On You're Own (6) 12. Chanson D' Ennui (9).
The new running time order is 10 (85 minutes), 14 (82 minutes) 12/11 (81 minutes each), 6 (77 minutes) 13 (76 minutes), 9/8/7 (75 minutes each), 5 (74 minutes)
The new film rankings are 5, 7, 6, 10, 8, 14, 12, 11, 9, 13.  It was close for the top spot.