After an eight year hiatus the series is back.  For me this was basically equal expectations overall. The editor was Luke Guidici, which makes this the first one since The Big Freeze (8) to not be edited by Jay Bixsen.  It has new producers and writers.  The director is Davis Doi, the writer of Scooby-Doo on Zombie Island.  The master of fear himself is directing sharpteeth.  The writers of Balto are writing this making it the most prestigious group to make a film in the franchise since the first one.  Fortunately music composer Michael Tavera is back.  Despite these changes the franchise has dealt with no returning people before, and they had more time than usual to make a movie.
The film starts with one of the fun features of watching these, the commercials for Universal throughout the years.  There commercials used to be great, but now they are not.  I did not know Universal made the Barbie movies until they were advertised on The Land Before Time.  We then have a decent Thomas and Friends commercial, the only series where the characters look unnatural for moving their lips.
The Universal logo is by far my favorite.  The Earth in it is now designed to look like it is filled with cities.  To make it even better the shot of the logo and the opening is now one shot.  Strangely John Ingle is no longer the narrator for the first time since the first film due to his death, as Tony Amendola takes over.  It is a good impression.  What is truly strange is he does a title drop.  In thirteen movies no character or narrator said "the land before time," except for one time.  The narration has to be made with a plan on weather the primary plan is to attract new fans or keep old fans.  They went with bringing in new fans, which is sound business sense and by bringing back Bron most old fans were still interested.
Michele Brourman and Amanda McBroom returned to write the songs, but I finished watching it sure they brought in other people.  This is far from their best work.  Right away the main five characters sing "Today is the Day."  It has good foreshadowing of the climax, and that there will be plenty of conflict between the protagonists.  Speaking of that this probably has the most screen time dedicated to the heroes fighting amongst themselves since the first one.  Normally something big happens making them argue, but here it is a chain of many smaller issues.  I still find it weird that the Great Valley has snow again, since it only happened once in recorded memory.  I guess Pteranto can come back after three more cold times.  At this rate he will be back for the Land Before Time 25.  Also Ducky's mom has another litter.  I think at is he first since the second film.
Grandma Longneck is still voiced by Miriam Flynn, but with Kenneth Mars's death Barry Bostwick is his new actor.  His voice is not similar to Mars at all, but it could just be assumed as he go older it changed, and he still can capture his wisdom, kindness, and alertness.  Since Bron and his herd are returning they go to look, but they do not see Bron.  Grandpa says he is sure there is nothing to worry about?  Considering the theory the characters are in Heaven makes the assumption Heaven is filled with dangers.  Grandpa tells his grandson, "I would say there is a lot to worry about."  Right then Wild Arms runs in screming "Help!"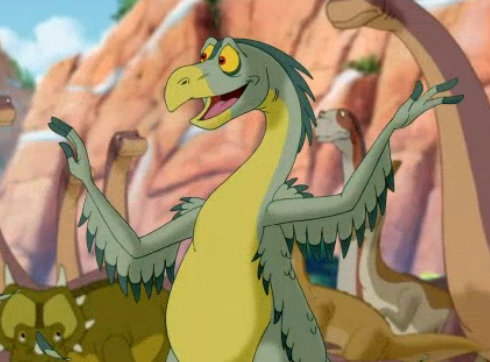 To what I can tell Wild Arm is a popular character. He is never too funny to me, but never really slow.  He is a flat character and actually fakes hidden depths.  A common moral in this film is leadership, and he is the idiot who thinks he is a great leader.
Thus the second most important part of the film, the beginning is good.  It is a little later when it really shows that the primary audience is new fans.  It is hard to judge Littlefoot's new voice actor in this one, because his main non generic leader guy characteristic is that he is the not-so-stoic.  Here it is a very emotional journey so of course he is more emotional, and that may be why he does not want his friends along, while in the older films he knew they would come.  I would think he is just joking around, but he clearly did not expect them later.  His plans here are still good.  He is still smart and full of compassion.  Littlefoot is still the driving force on success, but he is not dedicated to the group as usual.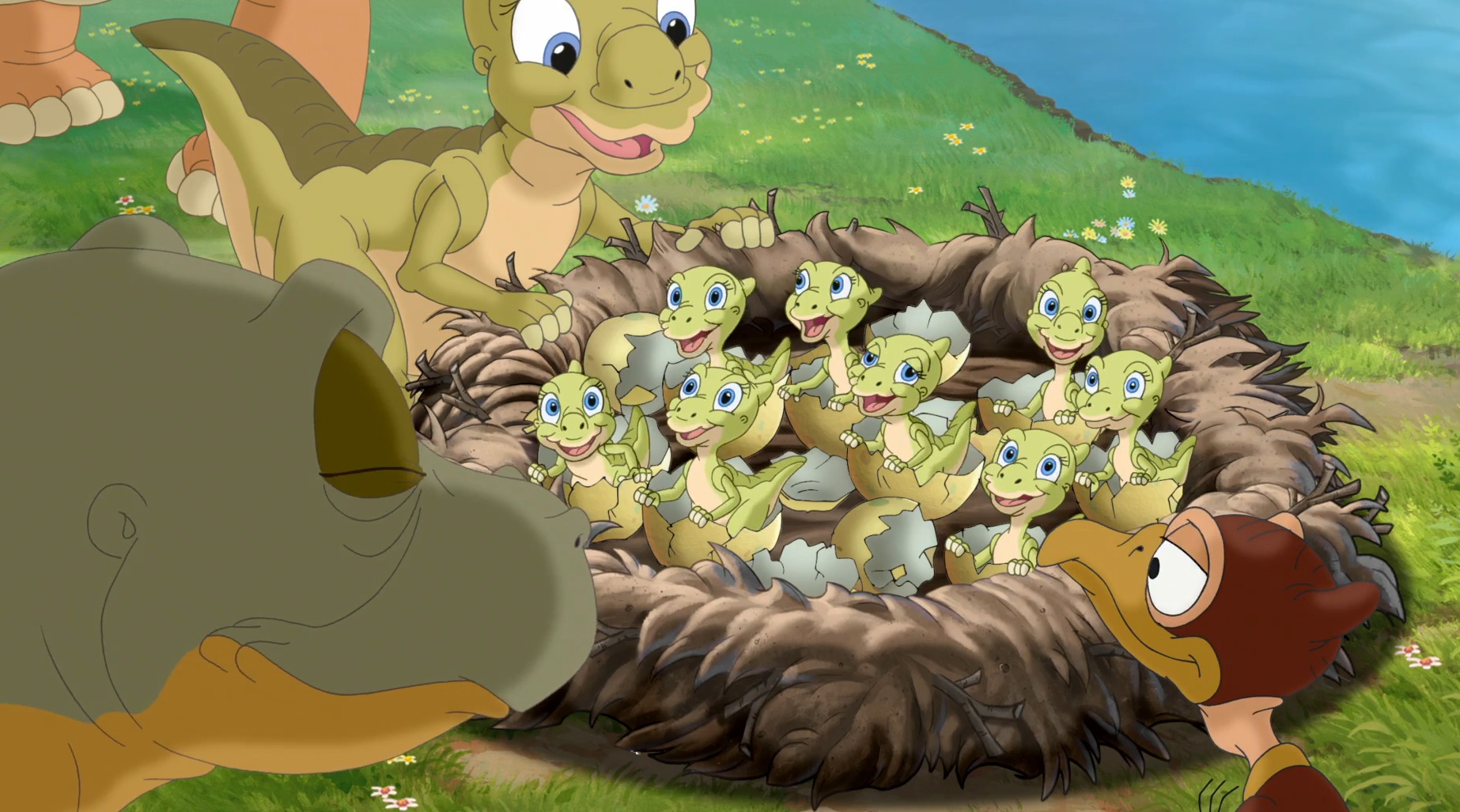 Spike's characterization was not as subtle.  Spike from films 2-9 was the clear second in command as shown in 4 and  7 where they looked to Spike for leadership when Littlefoot was indecisive or gone.  Most likely as he is the second most moral and can tell when others are truthful (4) or determined to help loved ones who need help (7).  Here when everyone else is suffering from internal conflict Spike is the one who constantly uses the time who notices smaller paths and other things that can help him.  It is easy to interpret him as a genius from this one who just cannot talk yet, while he was previously shown as an idiot who was occasionally brilliant.  He showed the leadership theme by showing good leadership in danger is focusing on the task rather than petty arguments (which Littlefoot usually does).
Cera is the most hostile she has been since at least 4.  It mostly shows that Cera is speaking for the others when she mentions important parts of a journey like sleeping, drinking, and eating.  Littlefoot wants to ignore those to get to Bron sooner.  Considering they nearly get killed when stopping the film is against Cera, but not her methods.  Oddly she is the one being quiet and less forceful about getting her way, which is the opposite of what happened in the first one.  I actually really like this part.  It makes perfect sense as she is not emotionally attached to Bron, and it is a good reminder to the original film, while not ripping it off or senselessly reversing from it.
Ducky…  I cannot think of a real point Ducky has here.
One part looks like filler, but it is very important to the themes.  Some Compy like leaf eaters declare Petrie their leader, as he can get food for him.  After he leaves they give the title to another who can get them food.  As a viewer could make out they are designed to look a little unsettling and not be a good thing.  They represent the idea that a leader is merely the provider.  When Petrie cannot give actual advice it shows there is more to it.  Even better when Ducky asks Petrie for leadership over Cera, as that is the funniest part of the movie.  Plus Petrie's followers are ugly cute.  The scene is funny and a little scary.  It fits with the theme, and I think it is the best part of the movie.  besides this part there are parts where Petrie is misused like Littlefoot climbing a ledge to get a birds' eye view rather than telling Petrie to fly up like in the previous films.  It depends on the year about whether Petrie or Littlefoot is my favorite character, and despite being pushed to the side here Petrie is the best in this film.
Just because the primary aim is the new fans the film still wants to keep old fans, and that includes the series.  I love the franchise, but the series stinks.  Part of it is 22-23 minutes is not enough time to use seven main characters and all the guests with plot instead of character driven stories.  To please fans of the series Chomper and Ruby were included, which really surprised my dad.  If you have not seen the series it makes no sense why Chomper is there…  Even if you have seen the series the explanation makes no sense.  The writers found a role for them, which could have easily been removed.  Sure there role is useless, but it does not take much time.  Just because something does not advance the plot does not make it bad.  It can show how life goes on for others, make fun scenes, or (like here) give the viewers a break from the main plot.  Their story gives a break from all the internal conflict.  It also gives the viewers time to analyze it.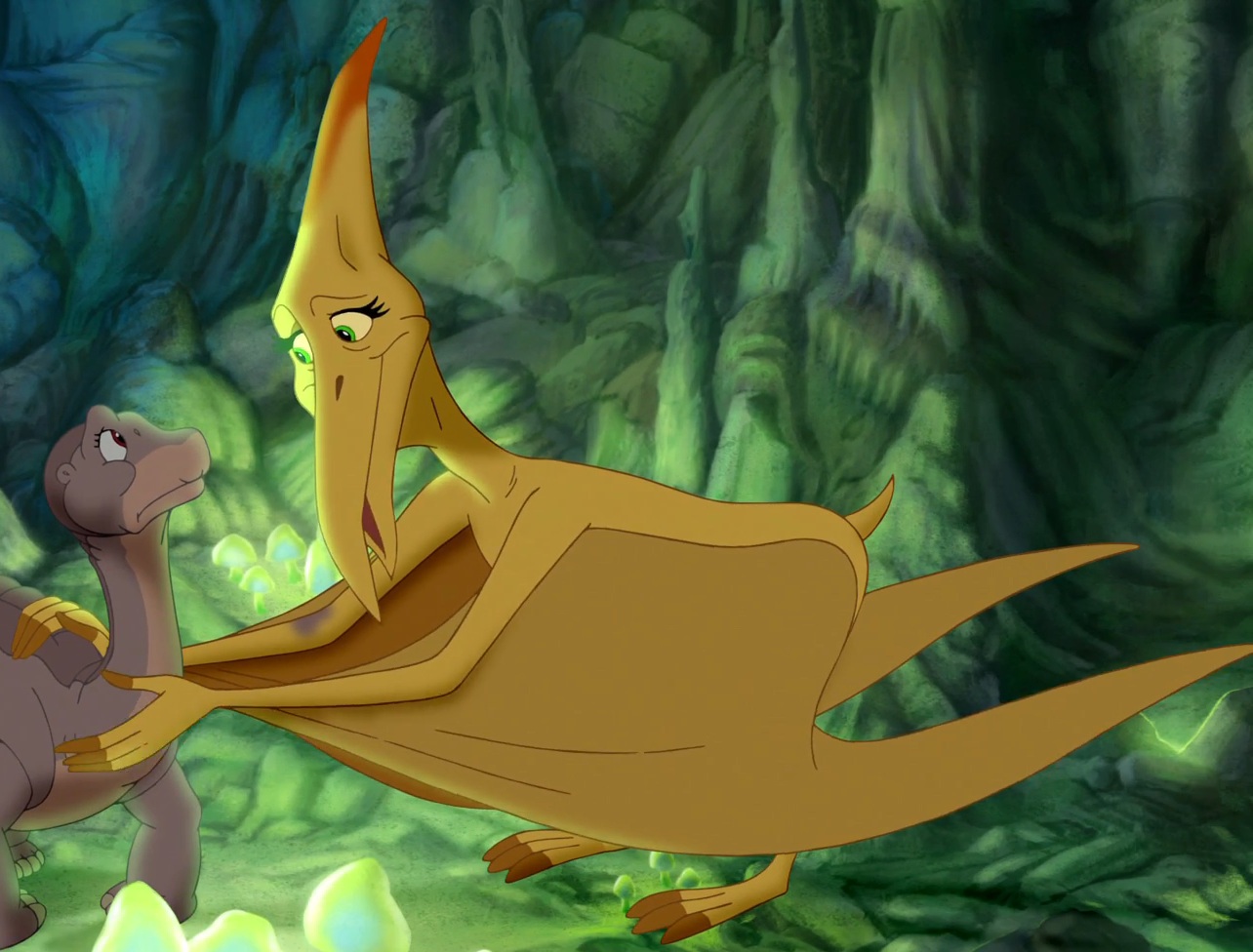 Etta is one of those characters who is an unhelpful annoyance to the main characters at first and then becomes helpful.  She has quite a few rewatch bonuses, but she could have been removed without much of a real problem.
It could be argued their are some inconsistencies, but I think it still holds up.  Bron's herd seems to have non Longnecks in it, but they are probably just temporarily joining with other herds for protection, and he does seem to only be in charge of the longnecks.  I already mentioned the snow, which is apparently common.  The narration does always say the world is changing.  The characters now know what feathers are, which they did not in The Day of the Great Fliers (12), but I guess they made a word for them since.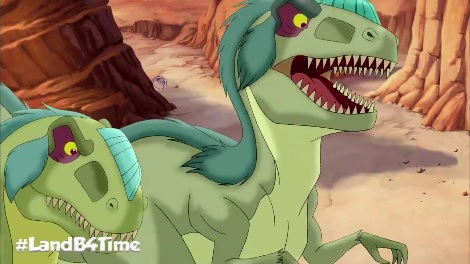 The songs are a mixed bag.  When watching the credits I was surprised to see that the main writers did them.  "Today is the Day," while a fine song is not too good.  "Hot and Stinky" was panned by me for a year, but it grew on me some, mainly due to Cera's lines, but there did not need to be a song around them planning on how to escape sharptooth.  "Look for the Light" tries to be a spectacle visually which the budget does not allow.  "Better off Alone" is the one I really enjoy.