I have said before that in the later half of the franchise the even numbered movies are better, and in the first half the odd numbered ones are better.  As a result The Stone of Cold Fire (7) and The Big Freeze (8) gave me very high hopes here.  The full CG trilogy is loved by critics, and critics loved this one, but the audiences did not like it.  Part of that is audiences watch children films many times, while critics only watch them once.  It is fine on a first watch partly due to some charm, but after just a few watches  there is very little to like.  This will be hard to write.
Dev Ross helped wright the second film and the next two films by herself.  After that this is her only role in the series.  She is not as good as John Loy at making two different conflicts connect.  One reason this is dull is that there is only one conflict.  Getting to Big Water is supposed to be one, but it is really not a challenge.   Charles Grosvenor is again the director.  this is the last film to use James Horner's score from the original untouched and play "If We Hold on Together."  It is the last time Thomas Dekker voiced Littlefoot, and he won an award for it.
There is so little plot, and there is no real point to telling it in order.  The absolute best parts are small scenes.  Starting in 7 Mr. Threehorn was starting to like Littlefoot more, and he shows the best confidence in him throughout the series, when he assures everyone else the gang will make it back home.  The ending has some nice parts like when Littlefoot looks into the water.  I also like the grasshoppers for some reason.  Another good part is just looking at The Great Valley.
I am convinced this film was practically ignored for making The Great Longneck Migration (10) in production.  Loy was not working on it.  Its story is overly simple and it relies way too much on nostalgia from The Mysterious Island (5).  It is just too simple.  Help a fish get home who does not really seem interested.  Get chased by sharptooth (this is the only film without a land sharptooth).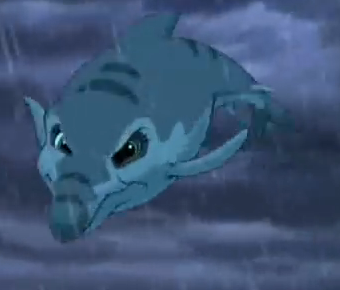 Mo is a major focus, and he is just not a good character.  He loves having fun and becomes very aggressive when his friends are in danger.  I think Cera was right to say he is not really interested in getting home.  None of his gags are funny, but at least they are not slow.  Seeing him save the day in the climax just seemed odd.
Littlefoot's voice with Thomas Dekker was very good, but I could tell he was reaching puberty.  I really think Spike fit his role better, but he cannot talk so Littlefoot gets it.
One of the sequels' best parts is how Cera became nicer.  Clearly the first one influenced her so much that she changed.  We saw it ending in the first one, and the producers knew we were smart enough to realize character development was needed.  Here she is way meaner than usual.  It is supposedly jealousy of Mo, but it makes little sense, and it is not very interesting. Petrie strangely is the smart one.  Ducky is at least good with Mrs. Mama.  Spike is not used much.
The real best thing is the songs.  "Chanson D' Ennui" is incredibly catchy, and I mostly watched the film for this song.  It is vey fun to sing and surprisingly not boring.  I expected to rip "Imaginary Friends Apart," but I actually enjoyed it.  "No One has to be Alone" was heavily promoted, but it is just bland.  The reprise of "Big Water" was good as expected, but it relied too much on the audience having seen the fifth one.  The first usage of "If We Hold on together" was too dull.  The second time was actually appropriate.  A funny moment is when Littlefoot's friends are a little mad and it plays the bully theme from 3.
The worst part is by far the middle action scene.  It puts Mo in a really bad light.  The music acts like it is dramatic, but it is not.  He needs to go over some rocks, but you can see areas around he can go over.  It also makes a plot hole about how the sharptooth swimmer (why not "swimming sharptooth") got around.  It also has a very bad Free Willy Reference.
The climax ends very badly but the sharptooth swimmer is actually intimidating.
This is just a dull film.  Similar to the Jumpstart ads it ends with.
The new climax ranking is 10, 14, 11, 12, 9, 13
The five best songs are now 1. Bestest friends (10) 2. Adventuring (10).  3. flip, Flap, Fly (12).  4. How do You Know (13). 5. Chanson D' Ennui (9).
The new running time order is 10 (85 minutes), 14 (82 minutes) 12/11 (81 minutes each), 13 (76 minutes), 9 (75 minutes)
The new film rankings are 10, 14, 12, 11, 9, 13.